Selling a Business

Frequently asked Questions

Selling a Business
Frequently asked questions

Frequently asked
questions about selling a business
I have been approached by a Business Broker who would love to sell my business now.
Consider the following. Is your business ready to sell? Will a sale  provide enough income in your retirement if you sold today. Are you aware that generally only a third of businesses listed will actually sell. 
Does the Value Builder create a valuation of my Business?
The Value Builder will analyise how ready your business is for sale. The methodology is statistically proven to help you increase the value of your business.If you add your fianancial information the tool will produce a valuation in line with your industry norms.
Will the Value Builder System work for my Business?
The analysis of 50,000 businesses in North America, United Kingdom, Australia and New Zealand discovered that businesses with a Value Builder score of 80 and above received offers 71% higher than the average. Working with a Value Builder consultant will help you improve the value of your business.
What time will I need to spend on this?
We will look to prioritise your time based around your current needs.We will help you to become laser focussed so you are working on issues that are high priority. Ultimately you will be aiming to work less "in your business" so you can spend more time building the value of your business.
Retirement is still another 10 years away for me. Do I really need this?
Statistics suggest about 80% of business owners intend to exit their business within the next 10 years. Business owners will want their business to be offering the best value possible. You will need to place your business ahead of the crowd.
We intend to pass on our business to one of our children when the time comes.
Great to see you have been considering your exit. Hopefully when you are ready to exit one of your children is ready too. I know of a family business of which the directors involved had thirteen children. They expected one or more of them to be involved. Not one of them was interested in running the business.
I like to be in charge of my business. I am uncomfortable with employing staff to run it in my absence.
One of the key drivers that will attract a buyer is whether the business can flourish without the direct involvement of the owner. If you can display this your business will be more valuable to potential buyers.
It is crucial that we get a good price for the sale of the business as it needs to substantially contribute to our retirement.
You are in the same boat as 50% of business owners. That's why it is important to work with an advisor to build the value of your business and to consider a range of exit strategies.
Free eBook: 8 Ways To Re-Invent Yourself In A Crisis
You'll discover how to:
Leverage digital channels while working from home
Exploit an increased use of social media to drive sales
Pick the best part of your business to invest in now
Motivate yourself to act with clarity and confidence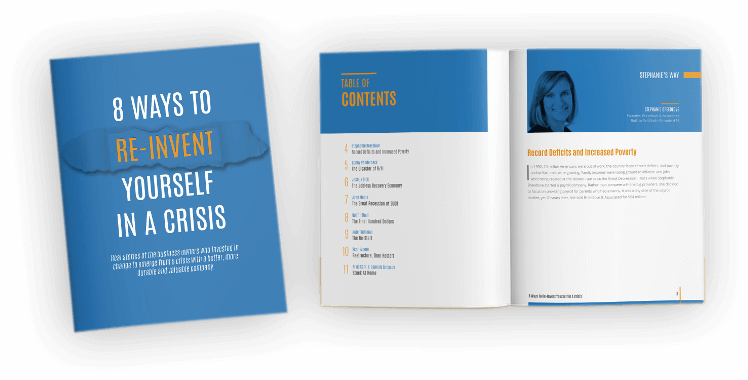 What is the
value of your business

?
The value builder system is a statisically proven method for increasing the value of your company.
Take the 13-minute survey and get your Value Builder Score.
Complete the questionaire and instantly get your Value Builder Score out of 100. Companies with a score of 80+ typically get offers that are 71% higher than the average scoring business.